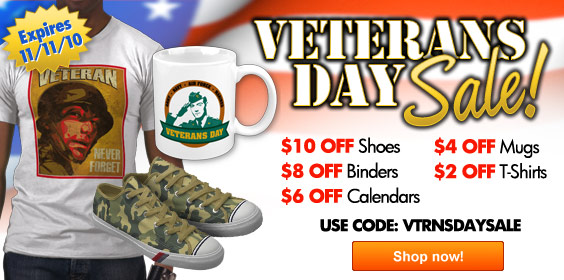 Save big on the Veteran's Day… Get some gear from Commander Fury's Lot or Official Gear from UFGL and more.
* $2.00 of the shirt net sale price, $4.00 of the mug net sale price, $6.00 of the calendars net sale price, $8 of the binder net sale price, and $10 of the shoe pair net sale price will be deducted when one or more shirts, one or more mugs, one or more calendars, one or more binders, and/or one or more shoe pairs are purchased and the coupon code VTRNSDAYSALE is applied at checkout. The net sale price is the price of the product (excluding shipping and taxes). Offer does not apply to screen printed apparel. Offer is valid from November 8, 2010 through November 11, 2010 at 11:59pm PT. This offer does not apply to past purchases and may not be combined with any other Zazzle promotional or volume discount offers. If a volume discount applies to your order, you will receive either the discount set forth in this offer or the standard volume discount, whichever is greater. Offer valid on Zazzle.com only.
I have been gaming since the very beginning. As the CIO of Urgent Fury, my sole purpose is to get the word out, manage the sites and equipment that make Urgent Fury run and build relationships in the Industry. I am a die hard Socom fan, but I really gravitate to most shooters out there. Though I won't lie, there are many non shooters that I like and now that PlayStation Plus is out there, I get a lot of the free mini games to give me a break from the norm.